Finger On The Pulse, Episode #3 (Shot August 15 - 21, 2004):
All the way from London, musical genius Statuesque played a handful of wonderful shows in the San Francisco Bay Area during one crazy week in August 2004:

The Rite Spot Cafe (August 15)
Mitch LeMay's "Apartment Life" on KFJC (August 16)
Epic Arts Studios (August 18)
The Hemlock Tavern (August 19)
Fox & Goose (August 21)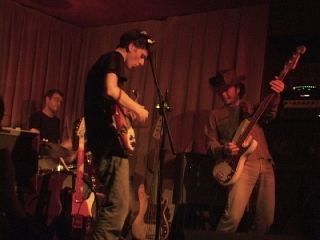 Broadcast Date:
Sunday, September 19, 2004, 9:30pm - 10:00pm, San Francisco Comcast Cable Channel 29
Sunday, April 16, 2006, 9:30pm - 10:00pm, San Francisco Cable Channel 29

Episode Credits:
All songs written by Stephen Manning (&copy 2004 Copyright Control)
Performed by
Stephen Manning, Vocals, Guitar
Bradley Skaught, Drums, Vocals
Yuki Kasuya, Bass
Joe Becker, Additional Percussion
Interviewer: Mitch LeMay, host of Apartment Life on KFJC
KFJC audio engineers: Grawer, Kate De Vincenzi, Ryan Peterson
Filming and editing: Sarah Gordon
Episode Setlist:
Dash (from KFJC)
Choir Above Fire Below (from KFJC)
Present Historic (from Epic Arts Studios)
Ex Hubris (from Fox & Goose)
Are You Sure? (from Fox & Goose)
Ton of Feathers, Ton of Steel (from Fox & Goose)
Related Links:
http://www.myspace.com/statuesquemusic (Band's website)
http://www.125records.com/ (Band's label's website)
Episode Notes:
I don't think I've ever shot so much footage for a single episode before. Stephen is such a wonderful subject...really fun to work with. I can't wait until his next visit to our fair city.
There are two versions of this episode. When I am rich and famous, I'll release a special edition director's cut DVD and maybe include some of the wonderful outtakes from the many hours of footage I shot for this episode.
Episode Errata:
Oh Hemlock footage, why must your vocals sound so distorted? Oh Rite Spot footage, why must you be so dark? Two great shows and venues, but the footage just didn't turn out well enough to use.
The Fox & Goose footage is a bit blurry at times. I should've used manual focus since I was at a fixed distance. Another lesson learned. I did use manual focus for Scott's and Anton's set, but it was also hard to manually focus the camera. Low light situations are tough no matter what you do.
White balancing...seems to be a good idea especially when you are trying to use two cameras. The cut I do to Bradley playing drums at the KFJC studio is definitely a different color makeup than the other footage. Some of it might be the difference in the quality of the cameras, but I'm sure I could've done better. On the other hand, for footage like the Hemlock, I confess to like the reddish tint, even though folks have suggested white balancing to fix it.

Equipment Used:
Footage was shot on both the Sony DCR-HC20 and Sony DSR-PD150 on MiniDV. I got a board feed for the KFJC show into the PD150 which was nice to try and worked out really well. The show was edited at the AccessSF edit suite.
---
Copyright ©2004-2006, Sarah Gordon, sarahatfingeronthepulsedotorg, www.fingeronthepulse.org