Finger On The Pulse, Episode #9 (Shot on October 15, 2004):
Secret Synthi donned their capes and put on a great show at Blake's in Berkeley.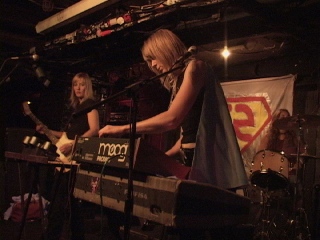 Broadcast Date:
Never aired

Episode Credits:
All songs written by Secret Synthi (Copyright 2004)
Performed by
Isabel Guajardo, drums, keyboards, vocals
Heather Kirschmann, keyboards, vocals
Jaimie Lock, bass, vocals
Interviewer: Johnny Mags
Filming and editing: Sarah Gordon
Episode Setlist:
Panickin' Mannequin
Here Comes The Disco Machine
Secret 7
Pop Pop Firepower
Cherry White
Radio Shack Anatomy
Friday Night
Ass Shimmy Action
Related Links:
http://www.secretsynthi.com (Band's website)
Episode Notes:
What a fun show Secret Synthi put on! I love the capes, the banner, the outfits. Secret Synthi are great live so try to catch them. They are taking a break from playing shows while they are doing some recording for their next album. Expect some singles out in the coming months. I'm especially grateful to expert interviewer Johnny Mags for helping me get the inside Secret Synthi scoop.
Episode Errata:
After closer inspection, the sound on the episode wasn't quite up to snuff so the episode will not be aired. You can imagine how great it might have been, though, and catch Secret Synthi live at their next gig.

Equipment Used:
Footage was shot on the Sony DSR-PD150 on MiniDV. The show was edited at the AccessSF edit suite.
---
Copyright ©2004-2006, Sarah Gordon, sarahatfingeronthepulsedotorg, www.fingeronthepulse.org