Finger On The Pulse, Episode #6 (Shot August 18 - 21, 2004):
Power pop legend Scott Miller played a handful of gigs
with Statuesque and Anton Barbeau during August 2004:

Epic Arts Studios (August 18)
Hemlock Tavern (August 19)
Fox & Goose (August 21)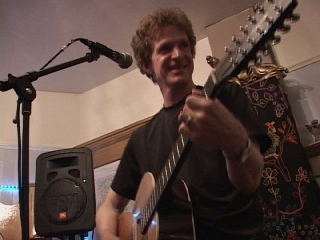 Broadcast Date:
Sunday, November 7, 2004, 9:30pm - 10:00pm, San Francisco Comcast Cable Channel 29

Episode Credits:
Performed by
Scott Miller: vocals, guitar
Joe Becker: drums
Kenny Kessel: bass, backing vocals
Bradley Skaught: guitar, backing vocals
Karen Lever: backing vocals, additional percussion
Anton Barbeau: backing vocals
Filming and editing by Sarah Gordon
Episode Setlist:
Cortex The Killer (Fox & Goose),
© 1998 Scott Miller, Kenny Kessel, Alison Faith Levy, and Gil Ray
Don't Respond, She Can Tell (Fox & Goose),
© 1996 Scott Miller, Paul Wieneke, and Kenny Kessel
I've Tried Subtlety (Epic Arts Studios),
© 1986 Scott Miller
Still Its Own Reward (Epic Arts Studios),
© 1994 Scott Miller
One Will Be The Highway (Epic Arts Studios),
© 2000 Scott Miller
Way Too Helpful (Fox & Goose),
© 1998 Scott Miller, Kenny Kessel, Alison Faith Levy, and Gil Ray
Last Honest Face (Fox & Goose),
© 1993 Scott Miller
Related Links:
http://www.loudfamily.com (Band's website)
http://www.125records.com (Band's label's website)
Episode Notes:
Scott is one of my musical heroes. I discovered his music when I was in college when his band the Loud Family opened for Aimee Mann in Portland. I tracked down one of the Loud Family's records (Plants and Birds and Rocks and Things) and listened to it all summer long non-stop. If you've never heard The Loud Family or Game Theory records, you have some catching up to do! Scott is one of the most thoughtful songwriters I can think of. He captures the emotions surrounding love and life so poignantly in his songs. His collection of work has incredible personal meaning to me.
Episode Errata:
I forgot to include a thank-you to loud-fans in the credits of this episode. I had made a note to do so, but the editing session was so tight on time that I didn't get the chance to review all my notes. When I realized the omission, it was too late to add it. Loud-fans, you are the greatest...my sincerest thanks to all of you for all the music recommendations over the years. My show probably wouldn't exist if it weren't for you. You have made a music geek out of me, that is for sure, and I am forever in your debt for it.
The Hemlock footage is so beautiful, but the vocals didn't record well so it was unusable. It breaks my heart...

Equipment Used:
Footage was shot on both the Sony DCR-HC20 and Sony DSR-PD150 on MiniDV. The show was edited at the AccessSF edit suite.
---
Copyright ©2004-2006, Sarah Gordon, sarahatfingeronthepulsedotorg, www.fingeronthepulse.org