Finger On The Pulse, Episode #32 (Shot on February 2, 2006):
My Life Is On The Line at San Francisco's Make-Out Room.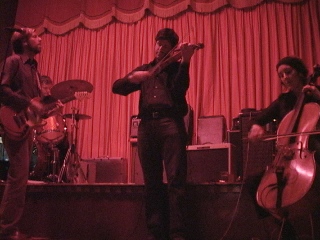 Broadcast Date:
Sunday, May 7, 2006, 9:30pm - 10:00pm, San Francisco Cable Channel 29

Download Available
"Untitled #15", 12.8 Mb, 4:37, RealPlayer required
Downloaded content from this website is subject to the following license.


This work is licensed under a Creative Commons License.
Episode Credits:
All songs written by My Life Is On The Line (Copyright (CC) 2006)
Performed by
Ugo Costa, violin
Libby Miller, cello
James Nestor, guitar, vocals
Geoff Reed, drums
Brian Wright, bass
Filming and editing: Sarah Gordon
Episode Setlist:
Untitled #15 (Download available, "Untitled #15", 12.8Mb, 4:37, RealPlayer required)
Untitled #14
Untitled #17
Untitled #3
Untitled #9
Untitled (Unnumbered)
Related Links:
http://www.mylifeisontheline.com/ (Band's website, currently down)
Episode Notes:
My Life Is On The Line played "their final show ever" at the Make-Out Room, and I was happy to catch it. Now, truth be told, these musicians will continue performing together, but perhaps in different configurations and under different names.
Episode Errata:
None so far!

Equipment Used:
Footage was shot on the Sony DSR-PD150 on MiniDV. The show was edited using Premiere.
---
Copyright ©2004-2006, Sarah Gordon, sarahatfingeronthepulsedotorg, www.fingeronthepulse.org