Finger On The Pulse, Episode #29 (Shot on October 27, 2005):
elephone at San Francisco's Make-Out Room.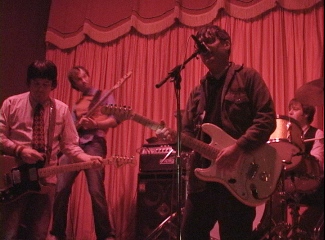 Broadcast Date:
Sunday, January 15, 2006, 9:30pm - 10:00pm, San Francisco Cable Channel 29

Download Available
"Night Terrors", 11.6Mb, 4:11, RealPlayer required
Downloaded content from this website is subject to the following license.


This work is licensed under a Creative Commons License.
Episode Credits:
All songs written by elephone (Copyright 2005)
Performed by
Ryan Lambert, vocals, guitar
Terry Ashkinos, guitar, vocals
Gavin Haag, drums
Daniel Settle, bass
Filming and editing: Sarah Gordon
Episode Setlist:
Hemlock
Let Go Of My Arm
elephone
Night Terrors (Download available, "Night Terrors", 11.6Mb, 4:11, RealPlayer required)
Chump Change (excerpt)
Hollyhock
Related Links:
http://www.elephonemusic.net/ (Band's website)
Episode Notes:
Wow, I'm really impressed with elephone's new material. I'm definitely looking forward to their new record.
Episode Errata:
None so far!

Equipment Used:
Footage was shot on the Sony DSR-PD150 on MiniDV. The show was edited using Premiere.
---
Copyright ©2004-2006, Sarah Gordon, sarahatfingeronthepulsedotorg, www.fingeronthepulse.org